Green Woodpecker
Now You Can Explore This Amazing Print by Nicholas Day
Green Woodpecker by Nicholas Day.Now you can own a signed limited edition print, (only 50 printed), by a successful Wildlife Artist using an original medium.At an affordable price!
These signed and numbered bird pictures by Nicholas Day are printed to a very high resolution and standard, on superb quality paper with fast inks to guarantee total colour strength for at least 80 years under normal conditions.
The detail illustrates the artist's unique style and medium.
The pictures are set in an acid-free mount measuring 15" by 12"(38cm by 30.5cm) and is delivered wrapped in a clear jacket.
Have a look at the fine
detail of Nick's Green Woodpecker Print

Hear What Customers say about Nick's prints
YOU ARE A SUPERB ARTIST. WOULD LOVE TO OWN A 'DAY ORIGINAL: AUDREY ARNOLD - UK
THIS IS A BEAUTIFUL PIECE OF ART:SUE B. - U.S.A.
RECEIVED SAFELY - THEY ARE EXCELLENT: MIKE R. - UK

---
Have a look at the fine Detailed View
Click on the image for a larger
detailed View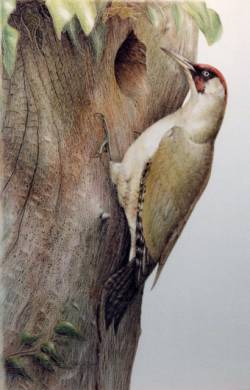 Image shown,"Woodpecker At Nest Site"in an acid free mount.Size of the print is 12" by 15"(38cm by 30.5cm)This is signed and numbered limited edition of 50 only.Printed to a very high resolution and standard, on superb quality paper with fast inks to guarantee total colour strength for at least 80 years under normal conditions.You will be very impressed with the price and the quality of this mounted print.
All About the Green Woodpecker

Green Woodpecker - (Picus viridis)
Fact File
Fairly common resident over much of England and Wales, especially the southern parts. Scarce and locally distributed in Scotland (which it colonised in the 1940's), and absent from Ireland.
Found in woods, farmland, parks and large gardens (where it is often seen feeding on ants in lawns), and heaths and coastal dunes.
Distinctive, large woodpecker and the only British species to show green tones. Most noted features are the red cap and often strikingly yellowish rump as the bird flies away. Has a loud, characteristic 'laughing' call.
31 - 33 cm (12")

Green Woodpecker
Any one who has ever taught a bird watching class or led groups of beginners will be familiar with the rare birds seen by their group. And sooner or later one of them is bound to report ' a brilliant yellow bird with a bright red head'. And they are usually convinced it is some sort of tropical bird - it must be really rare. But it is a sighting of this bird, which often takes some time to be accepted as 'only' a green woodpecker, which can fire the enthusiasm of many beginners. The yellow is in fact a yellowish green, confined to the rump, which becomes very visible as the woodpecker flies away with its bouncing 'undulating' flight.
There is no question, the green woodpecker is one of the most colourful of all the birds native to Britain. And they make themselves very obvious by often feeding right out in the open in the middle of the lawn, where they can be relatively inconspicuous while feeding, but when disturbed become very obvious as they fly away. Unlike the other two species (the Greater and Lesser Spotted Woodpeckers), they are frequently to be seen on the ground, and this is because they have a great love of ants, and will return day after day to a favourite anthill to feed.
The largest of the three species of wood pecker found in Britain, Green Woodpeckers are also easily recognized by their laughing 'yaffle' call. Like many such obvious birds they have a wide range of old country names and while standardization of the names is obviously an advantage for birdwatchers, I can't help feeling that we have lost something when these old names are lost :
Like the other woodpeckers, Greens do drum, but their drumming is neither so resonant nor harsh as the other two species, nor as frequent - they rely on their laugh to demarcate their territory. In Europe the closely related, though duller, gray-headed woodpecker is also found - but this is a more difficult bird to find, and one that even keen birders often have trouble in seeing.
---
Shipping and handling charges through out the UK are £7.75 including insurance.
Maximum delivery time 3 days
INTERNATIONAL ORDERS: International Orders will have additional shipping charges billed.
All charges must be paid in advance of shipment.
International delivery time 7 to 10 days
Please note: Some quantities are limited. Orders ship quickly, if there is ever a delay, we'll let you know immediately.
Thanks.
Please See our postage and package page Click On The Postage And Postage Link below
Click Here For Postage and Packing Page


---