About Nick Day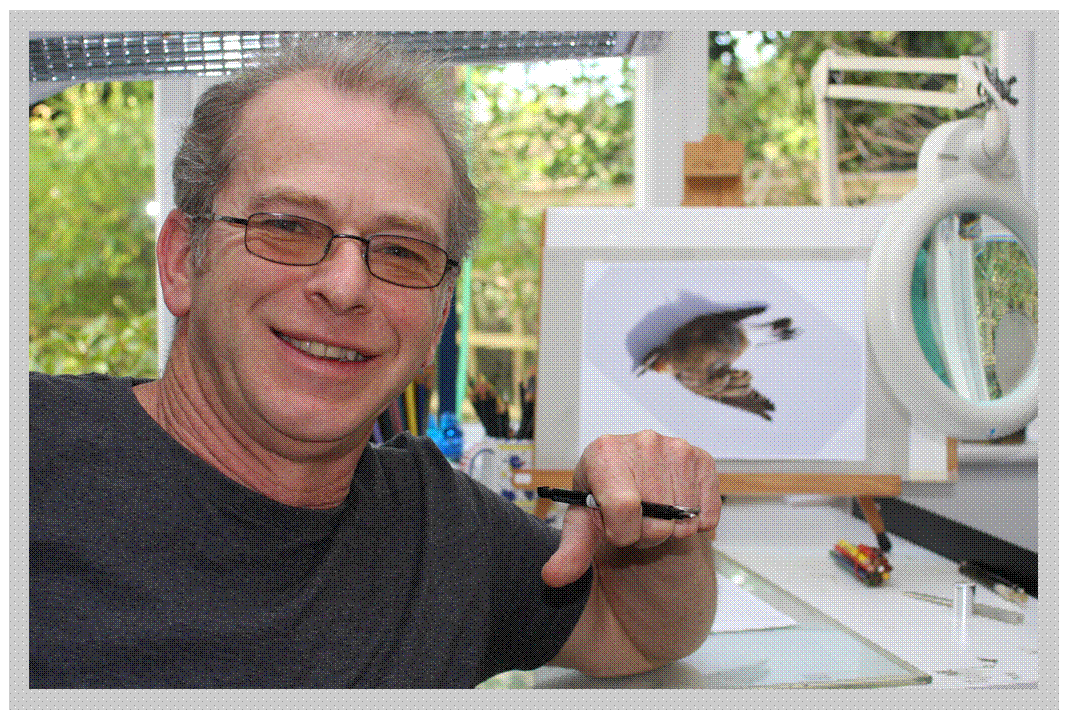 Our featured artist is  Nicholas Day
Born 1958 in Aylesbury Buckinghamshire United Kingdom. He is a self-taught artist, using a highly original and unique combination of oil and wax-based crayons over a detailed engraving on linen board, which illustrates the profound effect that the early Victorian hand-tinted copper plates of birds and animals had upon him as a child. This still influences him today.
Although he has been selling drawings since 1976, it was not until 1982 that he started working on a professional level as a freelance wildlife artist, specializing in birds.


In 1983 he began showing his work at the ROYAL WELLS FINE ART gallery, Tunbridge Wells, where his first exhibition was a sell-out on the opening date.
In late 1983 he was commissioned by YORK GALLERY Tunbridge Wells (United Kingdom), for three years.
Within that period, he was showing his work on a national level.
Work abroad has included the sale of specialst raptor work in CALIFORNIA, USA.
He has worked in conjunction with one of the country's leading botanical artists, the late ELIZABETH SMAIL F.S.B.A. , on commissioned paintings which have the unique blend of both artists' work.
He has also sold paintings to the MALCOLM INNES GALLERY of natural history in Knightsbridge in London.
In 1985, at a winter exhibition at YORK GALLERY, he was judged to be the most outstanding ornithological artist of his age in the country.
In 1986 he had work accepted at the ROYAL ACADEMY OF ART Summer Exhibition on his first attempt.
Since then, he has worked for many top natural history galleries, including EDWARDS CONTEMPARY ART, Tunbridge Wells, from 1993-1996, and most recently the RICHARD JOSLIN GALLERIES in Taunton Somerset, as well as the DAVID CURZON GALLERY in Wimbledon, London.
He has undertaken many commissions, including sets of paintings for new public and private buildings, his most recent being a series of six botanical paintings to furnish SHEIKH MOHAMMED's (crowned prince of Dubai) new home in London.
In both 2010 and 2011 at BAFTA HOUSE , London, Christies auctioned three of his commissioned paintings on behalf of the DURRELL WILDLIFE CONSERVATION TRUST in the 'WILD AT ART' Exhibition, featuring many celebrated artists and photographers.
At The Wildlife Artists Society International, 2012 annual exhibition at NATURE IN ART, Twigworth, Gloucestershire, Nick won two awards for the same painting – Snow Leopard.
In 2016, 2017, 2018, 2019 and 2022> he was shortlisted as a finalist for WAY (Wildlife Artist of the Year)- DSWF - David Shepherd Wildlife Foundation, and has had work selected for the annual SWLA (Society of Wildlife Artists) exhibition in 2016 and 2018. Both were/are at the Mall Galleries in London.
At present he is selling work at the 'WORLD LAND TRUST GALLERY' in Haleswoth, Surrey & also at the 'JULIAN JARDINE GALLERY' in Perth, Scotland.
In 2019 Nick was elected as a member of Artists for Conservation (AFC) and in 2020, 2021, 2022 & 2023 he had work selected to the AFC annual touring exhibition of Canada, America & China..
He has raised money for Conservation Trusts in the UK, USA and Australia.
Much of his work is held in private collections.